Behold the
yucca
root: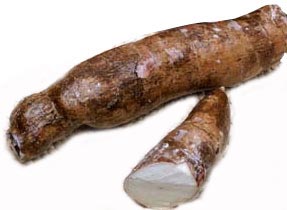 Yucca is a root vegetable native to arid environments in the North, Central, and South Americas, as well as the West Indies (or so Wikipedia tells me).
This is what I know about yucca:
1) Yucca chips are in the assortment of Terra chips that I enjoy so much.
2) Yucca is cooked the same way as potato (you can even mash it!)
3) I love yucca fries.
It was at Jim's request that I made yucca fries to go with our roasted chicken the other night. I thought it was a great idea because they're easy to make, you can dress them up, and they were still elegant enough to compliment my roasted chicken with thyme and bacon a la Tyler Florence. I made enough for Jim and I to eat with dinner, and then turned the remaining yucca in to chips.
Yucca Fries
1 Yucca Root
2.5 cups Vegetable Oil
1 tblsp Salt
2 tsp Pepper
1/4 cup Grated Parmesan Cheese
1) With a potato peeler, peal the skin off of the yucca root.
2) Cut the Yucca down the middle lenghthwise, and then in to strips 1/4"-1/2" wide and 4" long.
The thinner the fry, the more crispy it'll be. The wider ones will be a little softer. If you cut them smaller than 1/4" they tend to get too crispy to eat, and if you cut them larger than 1/2" inch they take longer to cook. So, there's a method to my madness.
3) In a medium, deep sided pot, heat vegetable oil until it reaches about 300*f on a fry/candy thermometer. Drop in the fries about 10 at a time. They will come to the surface, and once they're golden brown remove them with a slotted spoon. Drain on a paper towel.
4) In the meantime, mix the salt, pepper, and cheese together on a piece of wax paper. Roll the fries in the seasoning while they are still warm.
5) Serve 'em up!
They yucca itself is a little peppery, which complimented the savory roasted chicken so nicely. The Parmesan cheese gave it a little body, and the salt... well, let's face it. A fry isn't a fry without some salt. Even a gourmet fry. They are healthier for you than regular fries, easy to make, and so tasty! They are really quite addictive.
P.S. That 2007 Red Bicyclette Chardonnay in the background is a great deal. It complimented the dinner so well. It is very smooth, subtly fruity, and for under $15 I was pleasantly surprised! Thanks to Paul (our third romantic diner) for the recommendation! It is always good to take a European with you when you go wine shopping.